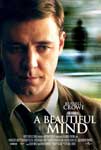 Release Year: 2002
Biography of John Nash Jr., and his battle with schizophrenia.
By default, movies are sorted by year in descending order.
Psychological problems are cured by "memory-resculpting."

Death row inmate wrongly convicted in part by eyewitness testimony (and released as a result of the publicity from this documentary).

A bureaucrat, in a retro-future world, tries to correct an administrative error and becomes an enemy of the state.

The mind of a computer programmer is removed by a totalitarian government and accidentally trapped in a virtual reality simulation.

Experiences are recorded from the brain. The recording of someone dying turns out to be dangerous.

To regain consciousness, a comatose patient is stimulated with the neural activity of a dying brain.

Several people volunteer for a scientific experiment about mind-reading and memory, but the experiment goes horribly wrong.

The memories and intelligence belonging to the remnants of humanity are stored in the eternal tabernacle, which won't let them die.

When trying to repair a computer, Dexter (18-year-old Kurt Russell) suffers an electric shock that imbues him with the computer's abilities.

Release Year: 1962 (2004)

A group of soldiers are brainwashed for political purposes.

A woman finds herself in an insane asylum and cannot remember how she got there. Notable for raising public awareness about the state of mental institutions.

A psychoanalyst protects the identity of a dissociative amnesia patient accused of murder while attempting to recover his memory

Charles Boyer tries to implant false memories in Ingrid Bergman.

Ludwig Frankenstein (the other son of Baron von Frankenstein) decides to cure the monster (Lon Chaney Jr) by doing a brain transplant with Ygor (Bela Lugosi).
55 - 69 of 69.